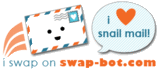 SWAP-BOT IS FREE (and addicting)!!
The rules are super easy!!
* Don't spend much on a book, composition notebook, sketchbook or journal, since the end result is to trash it, but make it around 80-100 pages at least please.
* Alter the front and back cover to the theme "wreck this journal".
* Write at least 40 activities on the front of each page of the inside for the recipient to "wreck".
* Send to your partner, so they can follow the directions and literally trash or wreck the journal!
For inspiration and further description on this, check out the original "Wreck this Journal" website: http://www.wreckthisjournal.com
Some ideas to get you started:
* Cover this page with Circles
* Cover this page with the stickers that come on fruit
* Scrub this page with something
* Press flowers and leaves onto this page
* Use this page as a napkin
Remember, you won't wreck the journal yourself, but are creating one for your partner to "wreck", you're just making the instructions for your partner. Once you get your journal from your partner you can have fun wrecking it.
* All good swappers only and new swappers with a complete profile.
* No recent no-sends.