The mailperson and UPS lady really liked me today!!! Three packages... One of which was HUGE!!! What was inside?? #1 - RAM for the S-C-O-R-E laptop (that didn't work), #2 - A port replicator (dock) for the S-C-O-R-E laptop, And #3...


There has been an addition to my dollie family. Fiori has arrived. Please excuse the blurry picture and allow me to introduce her.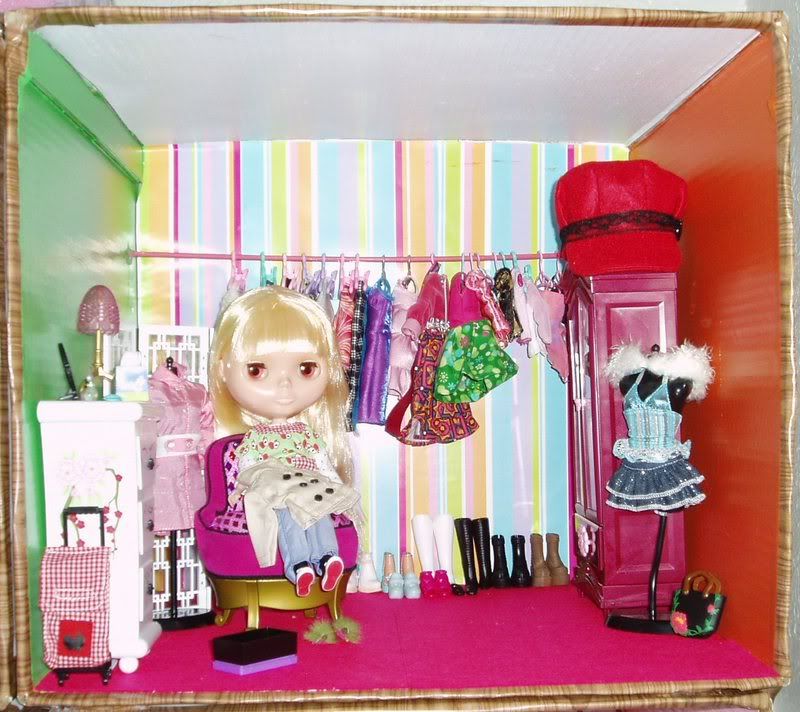 She also decided that she didn't want to share a room with the other girls just yet. So... The dressing room got remodeled into a third bedroom in the dollhouse. This might be a good idea, because I have at least two more Pullips on the way. Three, if my offer gets accepted on the
ThisIsBlythe forums
.
My mother had told me about a lovely Barbie bedroom set at Tuesday Morning a couple of months ago, and I had to get it. It had been sitting on a shelf set up as a little, unoccupied apartment. After I tried to organize clothes and the closet rod in the dressing room fell for the last time, I decided that the house really needed another bedroom, instead of a dressing room.
Darn near all of the furniture that I had (dressing room & apartment) fit once I completely took down the closet rod. I hadn't realized how well everything went in that room, color & size, until I sat all the girls in there. Now there might actually be enough room for everyone... for now!! LoL
After I got to Erik's house I turned on Grey's Anatomy and worked on the
Cursed Sweater
for a little while. Erik was nice enough to go and get dinner for us. What a sweetie!!! I think I am more that half way up to the sleeves on the back. The yarn I chose is really knitting up nice. I haven't had any splitting, shedding or pilling. YAY!! And eventhough it is acrylic (because the boyfriend doesn't know the meaning of handwash or gentle cycle) it is not sqeaky or unpleasant to work with at all!! So far it gets my vote. Ask me again when I am procrastinating and putting off the sleeves. The cables and seed are also making it interesting and the larger gauge is helping it go faster. RATING SO FAR: 8 stars!!