We had a ton of fun!!!
We even met and got an autograph from Aaron Douglas who plays Chief Galan Tyrol on
Battlestar Galactica
!!!!
Mimi, one of my Blythe girls, came with and we took some great pics!!!
Since I didn't dress up, she did as her favorite super hero The Pink Avenger (a custom Blythe doll that I have seen somewhere).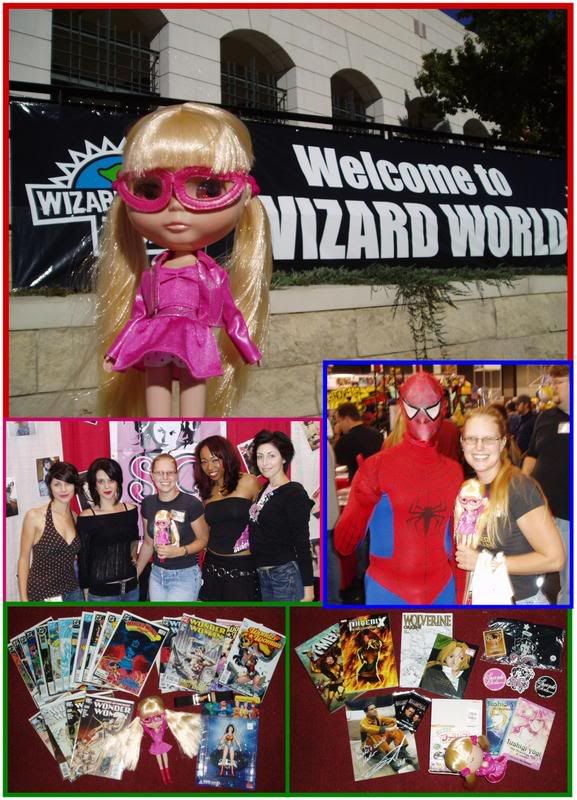 Check out all the stuff that I brought home!!! LOTS of Wonder Woman comics and other stuff!!!
Erik with some of the Suicide Girls.
Erik with two storm troopers.
And... Erik with Gambit (his favorite).
HEY!!! The knitting is down here!!!!!

I've been working on some more Blythe sweaters and hats. A lovely TIB member let me use her pattern, as long as I don't sell
my hats. No problem!!! I still modified the pattern a little to suit my needs. I will take pics of all the girls in their new sweaters and hats when they each have one complete.
I also cast on my Norovember project! It is another Modified Sandi's Scarf in Kureyon. The colors I am using are brighter than the first one. I am really liking it! I am thinking of giving it to an old friend or possibly someone else for Christmas, but I can't decide!!